The key to maintaining a dry basement is, well, taking every preventive step you can to keep water out.  But nature and your indoor plumbing each has a way of sneaking up on you and greeting you one day with a watery mess.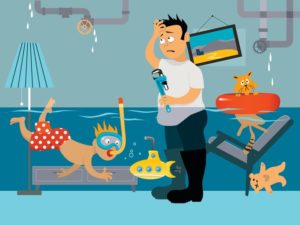 So, and for starters, if your home or neighborhood is prone to basement flooding, you'll want to install a main sump pump as your first line of defense.  They do, however, have one limitation:  they run on electricity.  Should you therefore lose power, your pump will immediately shut down. Or, what if your pump breaks down for mechanical reasons?
Not to worry, because should it suddenly fail for any reason, you'll be protected by installing a water-powered back-up sump pump.  Each one is apable of pumping more than 1,300 gallons per water out of your basement. And, because water-powered pumps require neither electricity nor batteries to operate – just pressure from your main water line – they can run indefinitely even under extremely trying conditions.
Another big plus about a water-powered sump pump is that it requires virtually no maintenance.
To learn how best to protect your basement and valuables from water and any resulting damage, contact Boden today to request a free in-home proposal. At Boden, we install only high quality sump pumps and, where maintenance is required, you can count on us to keep your sump pumps and all your plumbing in top working condition.