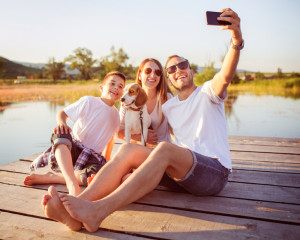 Your home's plumbing can be easily overlooked when you leave your house unoccupied for a period of time. If something goes wrong while you're away, your vacation memories can easily turn into living nightmares.
Unattended plumbing is just one of the reasons why homes are ten times more likely to be damaged by water than fire.
So, to make sure your home doesn't become part of that statistic, here are five simple plumbing tips that will ensure you don't return to a watery mess.
Turn off the main shut-off valve to your plumbing system. If you can't turn off the main valve, shut off individual valves under sinks, behind toilets, your refrigerator and the washing machine.
It's always a good idea to turn off your water heater before going on vacation.  All water heaters have a shut off water valve attached to the tank.  Turning it to the off position could prevent a big water spill, the kind that can result from a tank fail during your absence. Turning the heater down or off is another good idea.  Why heat water when not home?
Add some water and a drain maintenance product to your drains before you leave. This will keep them semi-wet and prevent them from developing an unpleasant odor.
Do a visual inspection of all appliances that have plumbing (refrigerator, washing machine, hot water heater) to make sure nothing is wet or corroded.
Have someone come to your house while you're gone and walk around – inside and out – to keep an eye out for water leaks and other signs of trouble.
Has it been a more since you've had a whole-house plumbing inspection? Then scheduling one before vacation will allow you to enjoy your time away with greater peace of mind. If nothing's wrong, you'll know that for sure. And if there's an item or two should require further attention, the professionals at Boden will advise you whether immediate attention is required or if the issue can wait until you return. Safe travels this summer or anytime at all.
When most people think of plumbing, they think of toilets, sinks, and showers – all of which reside inside their home. But did you know that plumbing can be used in a variety of ways to enhance your backyard experience, as well?
From the practical to the deluxe, here are some backyard plumbing solutions that can add a splash of modern luxury to your backyard retreat.
Rinse off the sand, chlorine, or simply the sweat in an outdoor shower. Add a lower hand-held shower head so you can give Fido a refreshing rinse as well.
Relax to the soothing sounds of flowing water and help drown out the sound of traffic with an outdoor fountain.
Add a garden sink to help make watering your plants and flowers and washing your gardening tools a breeze.
Tired of dragging your garden hose from one area of your yard to another? An outdoor tap – or two – in a more convenient location can help solve that problem.
Save yourself the hassle of running in and out of the house every time you or your kids need a drink of water by having a drinking fountain installed in your backyard.
No one wants to be stuck indoors cooking on a beautiful day. An outdoor kitchen, complete with a mini fridge, wet bar, and bar-b-q can be the perfect place to entertain all summer long. And, with a few well-placed portable heaters for good measure, you can extend your backyard experience by leaps and bounds.
Here at Boden, we're skilled and experienced residential plumbers with creative solutions for indoors and outdoors. Contact us today, tell us the need you're trying to fill, and we'll come up with one or more creative, practical, and affordable solutions.