Okay, so maybe the entire universe is NOT already clued in on the whole life hack thing, and what exactly that means.  So, straight from the top of page 1 of Google, let's call a life hack "a strategy or technique adopted in order to manage one's time and daily activities in a more efficient way."
The dog days of summer are officially in full swing, and everyone is looking for ways to beat the summer heat while having fun. So whether you're a titan of thriftiness, or simply like a good tip that makes your life a little easier, here are 8 summertime life hacks that are sure to keep you cool, comfortable, and even help you save a few bucks.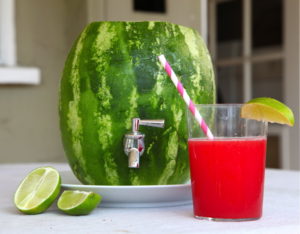 Catch that Drip – There's nothing like enjoying a cool treat on a hot summer day. But melting popsicles sure can make things messy. Next time, position a cupcake liner at the base of a popsicle to catch the dripping juice so your fingers don't have to.
A Fruity Container – Wow your guests – or just your kids – with a cool beverage container. Simply slice off the top of a watermelon, hollow it out, and insert a spigot into the side. Then fill with your favorite drink and replace the lid.
Clever Disguise – Wondering how to keep your valuables safe and secure while at the beach or pool? Use an empty and cleaned out sun block bottle! Just cut a hole at the bottom of the bottle large enough for your credit cards, cash, or even phone to fit through and toss it into your tote or duffel bag.
Itch Control – Nothing ruins a fun-filled day outside faster than pesky mosquito bites. But you can calm the itching and reduce swelling with something you already have at home – tooth paste. Just dab a little tooth paste onto the bite and get back outdoors.
Soothe the Burn – Spent a little too much time in the sun? Ease the pain of sunburn with cooling aloe. Pour aloe vera juice into an ice cube tray and freeze for an always-ready cooling solution.
Condiment Caddy – Adhere contact paper to the sides of a cardboard six-pack container and fill the compartments with condiments, napkins, utensils, or anything else you need for your next summer barbecue.
Flies-Be-Gone – Tired of having your outdoor dining experience ruined by pesky flies? Next time, place bowls of lemon halves topped with cloves on the table to ensure a fly-free meal.
We All Scream for Ice Cream – It doesn't take much for your favorite flavor to fall victim to freezer burn. But you can prevent those ice crystals from forming and make your sweet treat easier to scoop by placing the container in a zip-top freezer bag.
---