Whether it's a small extension of your home, or more like a sprawling oasis, a deck is a wonderful addition to any home. And yet just like all the rooms and mechanicals, it requires routine maintenance to ensure that it remains a safe and enjoyable place to just be.
Simply follow these Do's and Don'ts for deck maintenance and you're sure to get more years of enjoyment and greater pleasure for your trouble: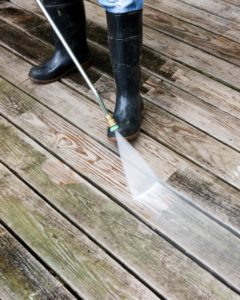 DO thoroughly clean your deck once a year. When the temps hit about 60-70 degrees and there is no rain in the forecast, use a roller or sprayer to apply a deck cleaning solution. While power washers are great way to wash of the gunk, they can also gouge the wood. Instead, use a garden hose on a hard-stream setting.
DO sand your deck before applying a sealant. When your deck is completely dry – which can take up to 48 hours – lightly sand the surface using a pole sander with 80-grit sandpaper. Then apply sealant to protect from warping and cracking. If you want a longer lasting seal, use a clear sealant.
DO inspect and clean your deck throughout the year. Regularly sweep puddles, leaves, branches, and debris off your deck to prevent scratches, mold and mildew growth, and water damage. Periodically, inspect the wood for cracks and soft spots, plus loose planks, railings, and nails.
DON'T use chlorine bleach on your deck.  Yes, chlorine bleach is one heck of a cleaner, but it can damage the wood and strip it of its natural sheen. Even oxygen bleach, which is a safer alternative, is still not recommended for certain wood species. Look for and use only a wood-approved deck cleaner.
DON'T mistake paint for sealant. If you want to change the color of your deck, first start by removing any paint with a sander or stripper. Things such as paint, varnish, or lacquer leave a film instead of penetrating the wood like a sealant. This can cause it to crack and peel in no time.
DON'T ignore pressure-treated wood. While it might resist insect infestation and rot, it does not resist sun and water damage. Clean and seal decking made with pressure treated planks just as you would with natural wood, but choose products made specifically for it.
DON'T use area rugs made from natural fibers. An outdoor area rug is a great way to protect your deck from scrapes and scratches while adding a little style, but natural fibers absorb moisture and promote mold and mildew. Opt for rugs made of recycled plastics instead.
Want to enjoy the whole outdoor experience even more?  Contact Boden Plumbing today and ask us about adding an outdoor gas connection and piping so you never have to worry about running out of charcoal or propane again.  That way, you can grill whatever you want, whenever you want.