Traditions play a crucial role in our lives. They strengthen bonds, give us a sense of belonging, and connect one generation to another. Unfortunately, as relatives move away, start their own families, and generations get older, it's easy for some time-honored traditions to fall by the wayside. However, that doesn't mean you can't still create and uphold meaningful traditions with your own family this Thanksgiving, and create memories that will last a lifetime.
Here are five simple ideas for starting new Thanksgiving traditions with your family that you are sure to cherish for years to come.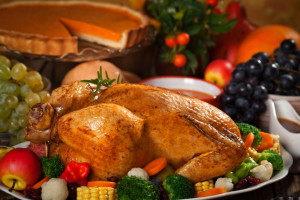 Write it down. Display a journal in your home and as guests start to trickle in for Thanksgiving dinner, ask each one to take jot down what they are thankful for this year. You can then read each entry during or after dinner. You'll have a treasured family keepsake that you can look back at year after year.
Smile for the camera. Once everyone has arrived, gather together for a family photo. Imagine looking through the pictures 5, 10, or 20 years from now and seeing how your family has grown and changed over the years.
Bring your game face. Take a break from watching the football game and play a holiday themed game instead, like Pictionary or Pin the Feathers on the Turkey.
Pay it forward. This year, why not share what you have with those in need. Share your time by volunteering at a local homeless shelter, or collect non-perishable food items and drop them off as a family to a food pantry. You might even consider sponsoring a family and supplying them with everything they need to have a healthy and delicious Thanksgiving dinner.
Get cooking. It's no secret that food brings families together. And what better way to preserve those tried and true recipes than by creating a family cookbook? Imagine passing down Aunt Ann's crab dip recipe or grandma's cheesecake recipe from generation to generation.
Here's another Thanksgiving tradition, not quite as much fun or rewarding as those already mentioned: clogged kitchen sink or garbage disposal drains. The problem, in fact, is so widespread that the day after Thanksgiving is now known as "Black Friday" by plumbers both near and far. So if too much turkey fat and other "no no" foods end up down your drain or inside the garbage disposal, contact Boden Plumbing for fast and effective relief from what could be a rather messy problem.
---